ENERGY/RENEWABLES: G20 Leaders Endorse IRENA Recommendations for Global Renewable Energy Adoption
G20 Leaders Endorse IRENA Recommendations for Global Renewable Energy Adoption
Syndicated By: GEÓ PR Wire Team – Gibraltar
GEÓPoliticalMatters.com/PRWire
Geopolitical Intelligence Network
Google Indexed on 120923 at 12:58 CET
Tuesday, 12 September 2023
Leaders at the G20 Summit agree to triple total renewable energy capacity and underscore global need for over USD 4 trillion of annual investments until 2030.
G20 leaders agreed to accelerate efforts to triple global renewable energy capacity by 2030, aligning with recommendations from the International Renewable Energy Agency (IRENA) on how the world can move in line with the Paris Agreement targets.
In a declaration adopted on Saturday, the Group cites a joint report between IRENA and India's G20 Presidency, titled Low-Cost Financing for Energy Transitions which estimates a need for over USD 4 trillion in annual investments by 2030.
According to IRENA's World Energy Transitions Outlook 2023 released earlier this year in June, the world needs to triple global renewable power capacity to just over 11 000 GW by 2030 to maintain the possibility of limiting global warming to 1.5°C. The agreement taken by G20 supports this objective. Learn More /…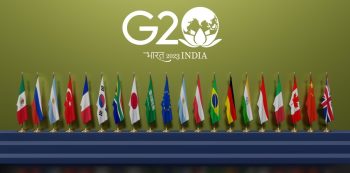 About Irena
About the International Renewable Energy Agency (IRENA) the lead intergovernmental agency for the global energy transformation that supports countries in their transition to a sustainable energy future and serves as the principal platform for international co-operation, a centre of excellence, and a repository of policy, technology, resource and financial knowledge on renewable energy. With 169 Members (168 States and the European Union) and 15 additional countries in the accession process and actively engaged, IRENA promotes the widespread adoption and sustainable use of all forms of renewable energy in the pursuit of sustainable development, energy access, energy security and low-carbon economic growth and prosperity. Learn More /…
About GEO´ PRWire Channel
Our PR Wire Channel Management Team provide direct, immediate, highly cost-effective access to our entire Geopolitical contacts network including our proprietary Userbase of 232k* individually named, profiled & GDPR compliant CSuite industry influencers and policy makers, across the Banking & Finance, Insurance, Manufacturing, Technology, Aviation and Maritime industries as well as NGOs and Government Departments Worldwide.(*Up 41% year on year) Post your First Release Free!